Welcome
The conference starts with the registration of participants on Monday, June 6th, 2011 at 9:30 AM in front of the auditorium room, A1-33 in Collegium Mathematicum in the campus Morasko of Adam Mickiewicz University. The conference ends on Wednesday, June 8th, 2011 in the afternoon.
Main topics
Arithmetics of abelian varieties,
Iwasawa theory and Galois module structure, L-functions,
Galois representations, fundamental groups, algebraic K-theory.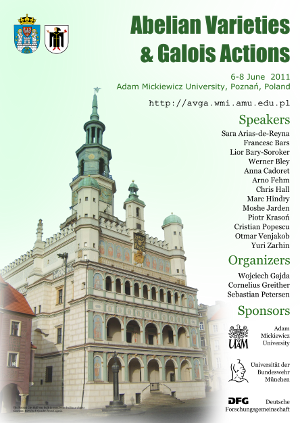 Speakers
Sara Arias-de-Reyna
Lior Bary-Soroker
Francesc Bars
Werner Bley
Anna Cadoret
Arno Fehm
Chris Hall
Marc Hindry
Moshe Jarden
Piotr Krasoń
Cristian Popescu
Otmar Venjakob
Yuri Zarhin
Organizers
Sponsors